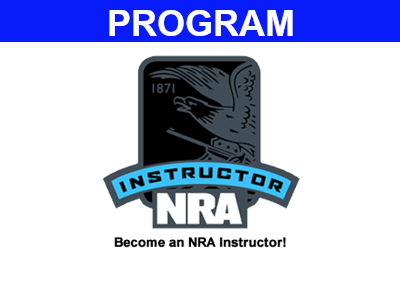 NRA Pistol Instructor Program
This is the official NRA Pistol Instructor Program consisting of the following three (3) courses delivered over three (3) consecutive days:
NRA Basic Pistol Student Course which is required for all Pistol Instructor Candidates before they may attend the corresponding NRA Pistol Instructor Course.
NRA Basic Instructor Training (aka BIT) which is a required prerequisite for all new NRA Instructor Candidates and existing instructors wishing to add another instructor rating/certification if it has been more than 24 months since they last completed BIT.
NRA Pistol Instructor Course which consists of both classroom and live-fire range sessions.
The classroom sessions will be delivered in Kersey, CO.  Range sessions will be conducted at a location that is about 25 minutes from each classroom location used.  Candidates who have already completed the official NRA Basic Pistol Student course may register for the 2-course bundle and begin with the classroom session on Saturday morning.
If you have already prepaid your tuition for this program, please use our CONTACT form to reserve a slot instead of registering and paying again.  Of course, you may pay again if you wish but it is not necessary!
If you have already completed the official NRA Basic Pistol Student Course, and you have your instructor-signed certificate, you may start this program on Saturday morning to complete the BIT + Pistol Instructor courses with a combined tuition of $298 / person instead of $397 / person for the three course set.