NRA Instructor Training in Colorado
Are you ready to become an NRA Certified Firearms Instructor?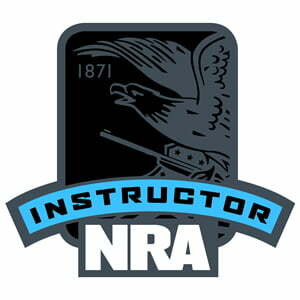 Become an NRA Certified Firearms Instructor and teach others to be safe and effective with their firearms!  
NRA Pistol Instructors and NRA CCW Instructors (two separate credentials) may teach courses that meet the training requirements for concealed carry handgun permit applications.
We offer the official NRA training in locations convenient to Denver, Boulder, Westminster, Thornton, Lakewood, Aurora, Littleton, Englewood, Golden, Evergreen plus in northern Colorado for those in Fort Collins, Greeley and surrounding areas.  Travel classes are also available if you have private group elsewhere in Colorado or out of state.

It's time for us to increase our efforts as firearms instructors to empower law abiding citizens to protect themselves, their loved ones and our greater family.  Will you step up and make a difference?
  
Are those with whom you gather at church or temple safe?
Does your house of worship have guardians with adequate training?
How many millions of people bought guns just in the last couple of years? 
How many of them have no prior firearms experience or training at all?
They need training and that takes instructors like you who are willing to help them.
What courses are needed to become an instructor?
NRA Policy requires ALL Instructor Candidates to have first completed the underlying NRA Student Course in the same discipline or rating. This requirement has nothing to do with the Instructor Candidate's firearms-related background, experience or other certifications.  Everyone seeking to become an NRA Certified Instructor must complete the required courses for each of the NRA Instructor certifications / ratings.
In addition, Instructor Candidates must also have completed the NRA Basic Instructor Training (aka "BIT") Course within the past 24 months.  BIT is a classroom-only session covering policies, procedures and teaching methodologies.  BIT is then followed by one or more instructor courses with the same student course requirement.
For example, to become an NRA Certified Pistol Instructor, you would need to complete three (3) courses:
NRA Basic Pistol Student Course (official NRA course), and
NRA Basic Instructor Training (BIT) Course, and
NRA Pistol Instructor Course
We offer these three courses in a "back-to-back" format which is usually scheduled every month in a Friday – Sunday configuration.  If you have a group for instructor training, and/or you need weekday classes, please contact us using this FORM.
The BIT course is "good" for 24 months which means you may attend subsequent NRA Student plus Instructor courses within that period to acquire additional instructor ratings/certifications without having to repeat the BIT course.
Here's what the NRA has to say about their NRA Certified Instructor program.
Private / Group Training

We may be able to run a private instructor program if you have a group of six (6) or more!
We also offer private individual and group training for public officials, celebrities, business VIPs as well as for everyday folks who prefer not to attend a public firearms course for various reasons.
Most firearms instructors teach only on weekends as a "side gig" while we offer customized scheduling on weekdays, evenings and weekends. While we do schedule courses on weekends, our Private Training Program supports those with different needs. Tuition varies depending upon the course, location, group size, etc.
The NRA requires a minimum number participants in each NRA instructor course but NRA and non-NRA student courses can be delivered to smaller groups and even one-on-one if desired.
Use this FORM to inquire about private / groups instructor training!
---
Ask about our multi-day, multi-course programs where you can get certified as an instructor with many ratings! Our multi-day / week-long programs are "heaven" not "hell" so join us and … get it done … right!
---